FIBER-OPTIC NETWORK CONSTRUCTION
Building a fiber-optic network takes months of planning—from network design and ordering of equipment to locating utilities and actual construction, there is a great deal of work to be done before we can connect your home to Orbitel Flight, 100% fiber services.
Rest assured, our team is committed to working efficiently and ensuring the work is done right the first time around. Our goal is to keep you informed as we move through the process and get your home connected as quickly as possible.
The Construction Process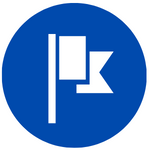 Utility Location
Before we can begin construction, underground utilities like gas, sewer, electrical, and water must be identified. Each type of utility is marked with a different colored flag. Within 14 days of the locate (weather permitting), the fiber-optic cable can begin to get buried in the city right-of-way, avoiding known utilities.
The colors of the locate flags identify what type of facility is underground:
White Flags: Proposed Construction Route
Reg Flags: Electric
Yellow Flags: Gas
Orange Flags: Communication
Blue Flags: Water
Green Flags: Sewer
Pink Flags: Temporary Survey Markings
Purple Flags: Unknown Utility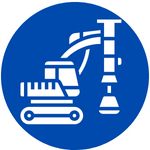 Boring
When you start to see heavy machinery in the area, that means construction has officially started! A boring machine has a specialized drill bit that spins and pierces the ground soil at a low angle to make a path for the fiber-optic cabling to be buried, with minimal disturbance to the surface area above. When the bit reaches its predetermined bore path, the conduit (which houses the fiber-optic cabling) is pulled back through the hole.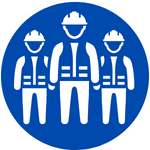 Fiber Drop
In order to connect your home to Orbitel Flight fiber services, a fiber-optic line ("drop") is required. A drop can be buried to your home while we are constructing the network. This will be done at no additional cost to you and will prepare your home to receive Orbitel services as soon as construction is complete.
Once boring and fiber drops are complete, our crew will work to restore any mild lawn disturbances by smoothing out the soil and adding grass seed.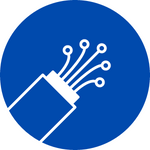 Fiber Splicing
After fiber-optic cable has been pulled through the bored conduit and the fiber drop is in place at your home, each end of the fiber is the spliced ("fused") together from the home, to a vault, and then to a node for continuous connection on Orbitel's Flight fiber network. The connection allows your home to receive Orbitel services.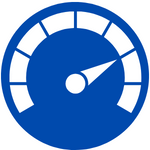 Testing
After the network has been built, our team tests the connection to ensure it's performing to our standards and that no anomalies have been found.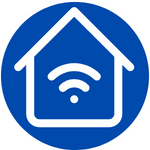 Installation
The moment you've been waiting for is finally here! If you haven't already, contact one of our local Customer Care Representatives at (800) 998-8084 to discuss service options, promotional pricing, and schedule installation of your Orbitel broadband services.
Once your services have been scheduled, a friendly Installation Technician will equip your home with state-of-the-art equipment and walk you through use of your new services.
Orbitel Communications is currently in the initial planning stages to expand our 100% fiber network.
Give us a call at 800-998-8084 and a service agent will be happy to answer any questions you may have.